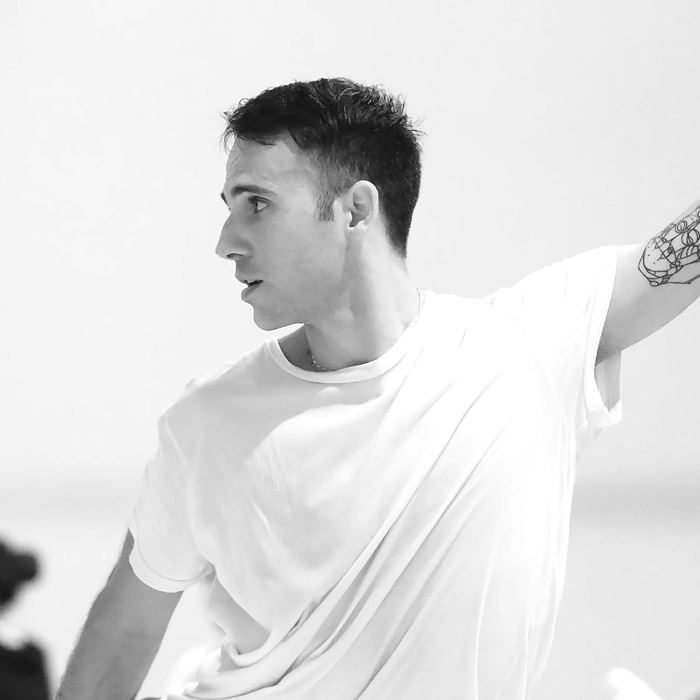 DAMIANO ARTALE
Contemporary dance
Damiano Artale was born in Siracusa in 1987. When he was 16, he entered in the school of the Teatro alla Scala in Milan and he graduated in 2007.
During the season 2007/2008 he performed works by W. Forsythe, M. Bejart, J. Godani, L. Childs with Ballet de l'Opéra National du Rhin in Mulhouse (France). In 2008 he won the prize Danza&Danza as Best Italian Talent.
From 2008 to 2013 he danced choreographies by Sidi Larbi Cherkaoui , A. Foniadakis, E. Gat, F. Ventriglia, S. Teshigawara, B. Millepied, J.C. Maillot with Ballet du Grand Theatre de Geneve (Switzerland).
In September 2013 he joined Aterballetto.
He created for the company in 2015 "Migliori" and in 2016 "Emme".
His choreography "Survivante" is within the dance and photography project In/Finito (2018).
He created the duet "Abiectio", which was selected for the 33rd International Choreographic Competition Hannover and in 2019 he created the choreography of the dance movie " il trionfo della grazia" directed by Valeria Civardi.
Since 2013 he holds workshops in several festivals and professional dance courses:
Mediterraneo Dance Festivals ( Reggio Calabria), Eventi Danza Verona (Verona), The River (Vicenza), Non Solo Danza (Sicilia), M.A.B. (Milano), Teatro Carcano (Milano), Milano Contemporary Ballet, Agora Coaching Project (Reggio Emilia), Dance Fabrica (Prato), ONDANCE directed by Roberto Bolle (Milano).