LOCATION
LOCATION
We are waiting for you in the imposing frame of the Malaspina castle that belonged to the Cybo-Malaspina, inside its historic rooms and panoramic exteriors to live a unique and unforgettable experience.
The Castle of Massa dominates from the top of a rocky hill the extensive flat area below, with a wide visibility on the whole coast. It was probably these characteristics that determined the occupation of the hill where, presumably in the early Middle Ages, a fortified plant was built.
The castle, seat of the Marquises of Massa, had particular relations with the coast and the sea. These marquises, fighting the pirates, also became feudal lords of Corsica, assuming the predicate: marquises of Massa-Corsica. The first written documentation relating to the castle dates back to 1164, when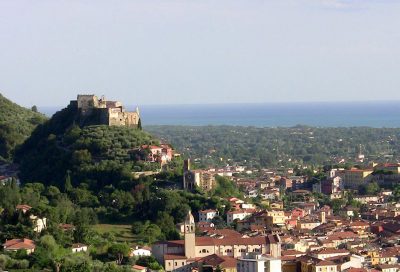 Emperor Federico Barbarossa assigns part of the castle to Obizzo Malaspina. Some chroniclers recall that Massa, about a century later, in 1268, suffered the occupation of the troops of Corradino di Svevia who devastated the territory. The following year the castle was destroyed by the Lucchesi who did not tolerate the availability offered by the Massesi to the emperor's troops.
The historical and architectural events of the castle for the first centuries of the late Middle Ages remain in the dark; the Marquises of Massa were ousted, the Malaspina took over entirely and ceded the castle, in the early fourteenth century, to Castruccio Castracani degli Antelminelli. From the XIV century to the middle of the following century Massa and its Castle depended on Lucca, Pisa, and Florence, becoming then property of the Marquis Malaspina of Fosdinovo. It is with this lordship that the castle assumed the role of residence and underwent the most profound transformations, in a period between 1400 and 1600.
After the middle of the seventeenth century the main function of the castle became the military function until, after the pre-unification states waned, the prison was the only intended use, which continued until 1946. The restorations carried out by the Superintendency of Monuments of Pisa, over the years fifty, returned the castle to the city.